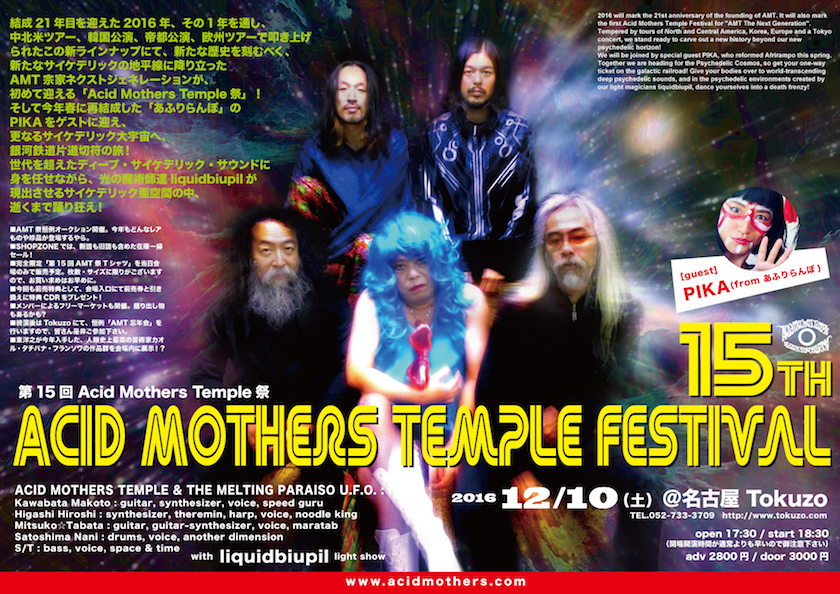 「第15回 Acid Mothers Temple祭」
■12月10日(土)@名古屋 Tokuzo (052-733-3709)
http://www.tokuzo.com
ACID MOTHERS TEMPLE & THE MELTING PARAISO U.F.O. :
河端一 : guitar, synthesizer, voice, speed guru
東洋之 : synthesizer, theremin, harp, voice, noodle king
ミツコ☆タバタ : guitar, guitar-synthesizer, voice, maratab
砂十島NANI : drums, voice, another dimension
S/T : bass, voice, space & time
with
liquidbiupil:light show
[guest] PIKA (from あふりらんぽ)
結成21年目を迎えた2016年、その1年を通し、中北米ツアー、韓国公演、帝都公演、欧州ツアーで叩き上げられたこの新ラインナップにて、新たな歴史を刻むべく、新たなサイケデリックの地平線に降り立ったAMT宗家ネクストジェネレーションが、初めて迎える「Acid Mothers Temple祭」!
そして今年春に再結成した「あふりらんぽ」のPIKAをゲストに迎え、更なるサイケデリック大宇宙へ、銀河鉄道片道切符の旅!
世代を超えたディープ・サイケデリック・サウンドに身を任せながら、光の魔術師達liquidbiupilが現出させるサイケデリック亜空間の中、逝くまで踊り狂え!
open 17:30 / start 18:30(開場開演時間が通常よりも早いので御注意下さい)
adv 2800円 / door 3000円
■AMT祭恒例オークション開催。今年もどんなレアものや珍品が登場するやら。
■SHOPZONEでは、新譜も旧譜も含めた在庫一掃セール!
■完全限定「第15回AMT祭Tシャツ」を当日会場のみで販売予定。枚数・サイズに限りがございますので、お買い求めはお早めに。
■今回も前売特典として、会場入口にて前売券と引き換えに特典CDRをプレゼント!
■メンバーによるフリーマーケットも開催。掘り出し物もあるかも?
■終演後はTokuzoにて、恒例「AMT忘年会」を行いますので、皆さん是非ご参加下さい。
■東洋之が今年入手した、人類史上最高の芸術家カオル・タチバナ・フランソワの作品群を会場内に展示!?
<アクセス>
名古屋駅より地下鉄東山線「藤が丘行き」もしくは地下鉄桜通線「野並行き」にて「今池」下車(名古屋駅より約10分)今池10番出口より徒歩2分。
<遠方からの御越しを予定されている方々へ>
終演時間は22時を予定しております。(騒音問題の為、22時以降になる事はありません。)
東京方面最終「のぞみ」は22時10分名古屋駅発の為、日帰りされる方は23時30分名古屋駅前発東京行き深夜バス「ドリーム号」の御利用をお薦めします。他にも24時15分発まで格安深夜バスが何便もございます。
大阪方面最終「のぞみ」は22時57分発ですので、日帰りは充分可能だと思われます。
Tokuzo周辺及び名古屋駅周辺には格安ホテル多数ございますが、週末ですので予め御予約されておく事をお薦めいたします。
Tokuzoは午前5時まで居酒屋として営業しておりますので、始発まで飲み明かす事も可能です。
またTokuzo周辺には朝まで営業している居酒屋や漫画喫茶、サウナ等多数ございます。
---
"ACID MOTHERS TEMPLE Festival vol.15"
– 10th Dec. (sat) @ Tokuzo Nagoya (052-733-3709)
http://www.tokuzo.com
ACID MOTHERS TEMPLE & THE MELTING PARAISO U.F.O. :
Kawabata Makoto : guitar, synthesizer, voice, speed guru
Higashi Hiroshi : synthesizer, theremin, harp, voice, noodle king
Tabata Mitsuru : guitar, guitar-synthesizer, voice, maratab
Satoshima Nani : drums, another dimension
S/T : bass, voice, space & time
with
liquidbiupil:light show
[guest] PIKA (from Afrirampo)
open 17:30 / start 18:30
adv ¥2800 / door ¥3000
2016 will mark the 21st anniversary of the founding of AMT. It will also mark the first Acid Mothers Temple Festival for "AMT The Next Generation". Tempered by tours of North and Central America, Korea, Europe and a Tokyo concert, we stand ready to carve out a new history beyond our new psychedelic horizon!
We will be joined by special guest PIKA, who reformed Afrirampo this spring. Together we are heading for the Psychedelic Cosmos, so get your one-way ticket on the galactic railroad! Give your bodies over to world-transcending deep psychedelic sounds, and in the psychedelic environments created by our light magicians liquidbiupil, dance yourselves into a death frenzy!
■ Including the auction. Who knows what rare items he has in his bag this year.
■ At the Shopzone a clearout sale of all current and old titles.
■ We will be selling the "15th AMT Festival" T-shirt. This will be highly limited so do not delay!
■ Those who purchase tickets in advance can exchange their tickets at the entrance for a special CDR present.
■ AMT member's fleamarket. What hidden treasures can you find?
■ After the concert we will host the usual AMT end of year party. Please join us.
[access]
■ From Nagoya Station, take either the Higashiyama underground line towards Fujigaoka, or the Sakuradori line towards Nonami. In both cases, alight at Imaike which is about ten minutes from Nagoya Station. The venue is two minutes walk from exit ten at Imaike.
[For those planning to travel from further afield]
■ The gig will end by 22:00, because of noise limitation ordinances. Since The last Nozomi shinkansen bound for Tokyo leaves Nagoya station at 22:10, so we recommend that anyone who wants to travel back to Tokyo that night instead books the nightbus "Dream" leaving from in front of Nagaoya station at 23:30. There are other cheap night buses as well, leaving up till 24:15.
■ For those travelling from Osaka, the last Nozomi bullet train leaves Nagoya at 22:57. You will have adequate time to catch either one of these.
■ There are numerous cheap hotels both around Tokuzo and around the Nagoya Station area. However, since the gig wil be on a weekend it would be advisable to make a booking in advance.
■ Tokuzo will be open as a bar until 05:00 so it will also be possible to spend the night drinking there and then catch the first train home in the morning. There are many other drinking establishments near Tokuzo that stay open all night.