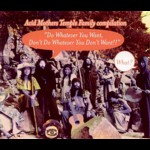 Acid Mothers Temple Family compilation "Do Whatever You Want, Don't Do Whatever You Don't Want!!"
/ Acid Mothers Temple Family
(Earworm records [UK]/ 3CDs/ 2002)
---
disc-1
PINK LADY LEMONADE (YOU'RE SO SWEET) / Acid Mothers Temple & The Melting Paraiso U.F.O. *
disc-2
SHIZUKU NO YOUNI / Floating Flower
SO FAR AWAY / Maquiladora
Bésamé La Mucho / Zoffy
DISCO, SPACE, BABY / Kido Natsuki
MON LION / Fursaxa
GANDAKI WARI G.P. / Gopal with Tsuyama Atsushi
GALACTIC BOMBER (ROLL OVER CAPTAIN ULTRA!) / Cosmic Riders*
PARDON MONSIEUR (smash hits mix) /Pardons**
LE LAPIN / Frédérick
HELLO BABY / The Wild Riders*
LOVE POTION 26 / Magic Aum Gigi*
NO MORE RED NIGHTMARE / Tsuyama Atsushi*¡¡
BLUES FOR MRS. TRIPLE H / Alien Social Dance Party*
WHITE ROOM / Zoffy
VALLEY OF THE WIND / Nipponianippon
BRAHMAGNPATIRANA (early mix) / Seikazoku*
UNTITLED (vanishing version) / Father Moo & The Black Sheep*
CAMBOUS / Ueh*
disc-3
CONCURRENCE / Kawabata Makoto & Miyamoto Naoaki*
WHITE FLOWERS ON THE HILLTOP / Shogo-nari with Kawabata Makoto*
PLANET OF SOMNOLENCE / Space Machine with Kawabata Makoto*
UCHU (comet comforter mix)/ Uchu**
DOHKOKU / Tsurubami*
THIRD EYE OF THE WHOLE WORLD (long version) / Acid Mothers Temple & The Melting Paraiso U.F.O.
I WANT YOU TO KISS ME AGAIN / Kawabata Makoto*
*unreleased track
**remix track
---
disc-1
1. PINK LADY LEMONADE (YOU'RE SO SWEET) / Acid Mothers Temple & The Melting Paraiso U.F.O.
Cotton Casino : voice, beer & cigarette
Tsuyama Atsushi: monster bass, cosmic joker
Higahi Hiroshi : guitar, dancin'king
Ichiraku Yoshimitsu : drums
Kawabata Makoto : guitars, electric organ, synthesizers, speed guru
music by Kawabata Makoto
recorded at Moat Studio (London) and Acid Mothers Temple (Nagoya)
engineered by Toby Hrycek-Robinson and Kawabata Makoto
mixed by Kawabata Makoto
mastered by Sasaki Hisashi (Ruins)
This track will be familiar to anyone who has seen us live. A studio version was included on the first AMT album. Then, when we played at a festival in Toulouse on our 1999 tour, a new fuzz guitar version appeared from nowhere. (This version appears on the Live in Occident album, with the subtitle "I wanna drink you".) During our spring 2001 tour of the UK and Ireland, a sixty minute version of this track got its first public airing at a festival in Stirling. The studio version (recorded at Moat Studios in London) included here is the full sixty minute long version but very different in style to how we play it live. This track is an AMT standard now, and will probably continue to appear in our sets in new forms.
---
disc-2
1. SHIZUKU NO YOUNI / Floating Flower
Yuki : vocal,
Kaneko Tetsuya : tabla, electric guitar
Kawabata Makoto : acoustic guitar
music by Floating Flower
words by Yuki
recorded at Arrows' house 12.Oct.98
engineered by Kawabata Makoto
Floating Flower is a shamanic acid-folk trio, formed when I met up with Yuki and Kaneko, who normally spend most of their time travelling around India and Morocco. The group has released two albums on the AMT label, both of which are due to be reissued on one disk by the US label Black Plastic Sound. The first album has also been reissued on vinyl by Eclipse Records.
---
2. SO FAR AWAY / Maquiladora
Phil : voice, bass
Eric : voice, guitar
Bruce : organ, voice, guitar
Morgan : drums
mixed by Kawabata Makoto
I first encountered the San Diego-based acid-psych band Maquiladora during the Mainliner summer 1999 tour of the USA. I was overjoyed to discover that a wonderful unknown group like this could still exist in America. I wanted to share their music with more people, so I remixed some of their tracks and put out a mini-album on the AMT label.
---
3. Bésamé La Mucho / Zoffy
Tsuyama Atsushi : vocal
Kawabata Makoto : bouzouki, kemençe
music by Kawabata Makoto
words by Tsuyama Atsushi
recorded at Acid Mothers Temple 4.Nov.98
engineered by Kawabata Makoto
Zoffy is an acoustic duo deeply infused with B-class humour, consisting of myself and Tsuyama. Sometimes on stage Tsuyama announces that "we play the very very famous song!" and we break into a cover of some rock classic. The rest of the time we improvise in the various trad styles that we both love to death. Whether these improvisations are entirely serious is up to you to decide. The group has released four albums on the AMT label: two original albums, one live album, and one compilation. Our second album has been reissued on vinyl by the Norwegian label Synesthetic Recordings.
---
4. DISCO, SPACE, BABY / Kido Natsuki
Kido Natsuki : vocal, guitar, organ, synthesizer, rythmbox
music & words by Kido Natsuki
live recorded at 20000V (Tokyo) 8.Dec.96
special thanks to Yoshida Tatsuya (Ruins)
Guitarist Kido Natsuki plays in a multitude of genre-defying units such as Bondage Fruits, Coil(Japan), Korekyojin, and Black Stage. He also loves Gong, and this live recording was his first attempt at playing spacerock.
---
5. MON LION / Fursaxa
Tara Burke : vocal and all instruments
music & words by Tara Burke
mixed by Kawabata Makoto
Fursaxa is Tara Burke's solo unit. Tara is an acid folk singer from Philadelphia. Recently she's been ultra-busy, opening for Sonic Youth and appearing at All Tomorrow's Parties in LA. We share the same birthdate.
---
6. GANDAKI WARI G.P. / Gopal with Tsuyama Atsushi
Gopal : vocal, percussion, tibetan flute
Tsuyama Atsushi : acoustic guitar
music & words by Gopal
recorded in Nepal 79
This is an amazing historical recording of the Nepalese psychedelic artist Gopal. The recording was made on cassette by Tsuyama at a jam session in Nepal when he was bumming his way around the world.
---
7. GALACTIC BOMBER (ROLL OVER CAPTAIN ULTRA!) / Cosmic Riders
Sasuke : guitar, vocal
Iida Tomoharu : fuzz bass
Sleeping Monk : drums
Yamanishi Hiroto : synthesizer, vocal
recorded at Acid Mothers Temple 10.Feb.02
engineered by Kawabata Makoto
Cosmic Riders is a punk rock band who number the original AMT drummer Koizumi Hajime amongst its members. The group consists of people who were involved with the AMT Soul Collective from the very start – peerless fuzz bassist Iida Tomoharu, late-blooming punk rocker Sasuke, and monster-collector Yamanishi Hiroto. They're currently recording an album.
---
8. PARDON MONSIEUR (smash hits mix) / Pardons*
Pardon Uno : synthesizer, electric guitar
Pardon Dos : voice, synthesizer
recorded at Irori studio (Nagoya)
mixed by Kawabata Makoto & Higashi Hiroshi
Pardons are a mood cosmic-sound unit, consisting of Pardon Uno (who looks uncannily like Higashi Hiroshi) and Pardon Dos (who resembles Cotton Casino). Their long-awaited first album was released in September 2001.
---
9. LE LAPIN / Frédérick
Frédérick : vocal, guitar
The songs of Toulouse-resident Frédérick are quite clearly different from those of the English-speaking world. The atmosphere they invoke could almost be described as acid chanson or acid balladry. For this release, we edited a 2CDR private press album that Frédérick released on his own Maison Drole Productions imprint in 1999. I am really proud that we were able to release this pure and immaculate music on the AMT label.
---
10. HELLO BABY / The Wild Riders*
"Wild Rider" Shiva : vocal, feedback guitar
"Professor" Joe : lead & rythm guitar
Taku : rythm guitar
Jun : bass
Oshow : drums
The Wild Riders is a band led by the biker "Wild Rider" Shiva, who's been active on the underground scene for almost thirty years. We are determined to lend him our help, so that he can release his first album to celebrate thirty years of free biking and free living. This track is taken from the only demo tape he has ever recorded.
---
11. LOVE POTION 26 / Magic Aum Gigi
Magic Aum Gigi : jews harp
Magic Aum Gigi lives deep in rural France, in the shadow of Mont Blanc near the Swiss border. He is a mysterious Frenchman who plays his jew's-harp from morning till night. He is one of our soul brothers.
---
12. NO MORE RED NIGHTMARE / Tsuyama Atsushi
Tsuyama Atsushi : vocal, acoustic guitar
live recorded in Grenoble (France) 16.May.99
special thanks to Marylene, Jerome and Owun
As well as being AMT's monster bassist, Tsuyama Atsushi also leads the hard rock band Nishi Nihon, plays with me in the Zoffy duo, and with Yoshida Tatsuya from Ruins and me in the Seikazoku trio. In addition, he's currently active with Boredoms guitarist Yamamoto Seiichi in the cult band Omoide Hatoba, and again with Ruins' Yoshida Tatsuya in Akaten and Tairiku Otoko vs Sanmyaku Onna. His CV includes literally innumerable appearances in such groups as Hallelujahs, Hoppy Kamiyama's Pugs, and Yamatsuka Eye's UFO or Die. On top of all this, he also plays in a duo with Japan's leading Irish trad musician Yoshida Fumio, and in Yoshida's trad group si-Folk. His activities extend in all directions – fake European trad sessions where he displays his acoustic guitar chops under made-up nonsense languages, leading his own group of musicians in John Zorn's Cobra, as well as many improvised sessions with other musicians. He has a greater love for the good old rock of the sixties and seventies than anyone I have ever met, and his obsessive knowledge of European traditional music is legendary in Japan. He bummed his way round the world from the mid seventies through to the mid eighties, mastering throat singing and a multitude of instruments. He also holds a forest ranger qualification, and during the summer months he sets music aside to go and live in his own lodge perched on top of a 3000m mountain.
This recording was taken from a solo live performance from 1999 in Grenoble. It's an improvised performance that blends various trad and rock classics with gags in his own inimitable fashion.
---
13. BLUES FOR MRS. TRIPLE H / Alien Social Dance Party
Tabata Mitsuru : guitar, roops, etc
Fujikake Masataka : drums
recorded at Download Station 8.Oct.01
engineered by Tabata & Fujikake
mixed by Tabata Mitsuru
Alien Social Dance Party is a duo, composed of guitarist Tabata and drummer Fujikake, both from Zeni Geva. As well as his role in Zeni Geva, Tabata was also one of the original members of the Boredoms and has led his own psychedelic group, Leningrad Blues Machine, since the 80s. He has also released several solo multitrack albums. Tabata and I go back a long way, and he currently plays bass in my new unit, Mothers of Invasion. Fujikake also plays in an old hard rock band called #9. Here they both get to display real psychedelic souls that are usually hidden in their work with Zeni Geva.
---
14. WHITE ROOM / Zoffy
Tsuyama Atsushi : vocal, electric sitar
Kawabata Makoto : violin, synthsizer
recorded at Acid Mothers Temple 17.Apr.98
engineered by Kawabata Makoto
---
15. VALLEY OF THE WIND / Nipponianippon
Yokoyama Mabo : percussion, vocal
Takobo: percussion
Sakakibara Daiji : didgeridoo
Kawabata Makoto : guitar, electric sitar, ocarina
live recorded at Seikazoku (Nagoya) 24.Sep.95
mixed by Yokoyama Mabo & Kawabata Makoto
Nipponianippon were an ur-tribal improv group that I used to play with when I was involved with a Japanese hippie commune. The group consists of: Yokoyama Mabo, a percussionist who has toured Eastern Europe with Allen Ginsberg and Nanao Sakaki, as well as playing with the likes of Tsuchitori Toshiyuki and Kitaro; Sakakibara Daiji, who picked up the didgeridoo when he was living with the aborigines in the Australian desert; and well-known session percussionist, Takobo. I filled in on guitar, bouzouki, harmonium, etc. The group played mainly at temples and worked with the Japanese beat poet Nanao Sakaki.
---
16. BRAHMAGNPATIRANA (early mix) / Seikazoku
Tsuyama Atsushi : bass, voice
Yshida Tatsuya : drums, voice
Kawabata Makoto : guitar
recorded at Nishiogi Kumin Center 18.Jun.96
Seikazoku are an improvised krautrock unit, consisting of the holy trinity of myself, Tsuyama, and Yoshida Tatsuya from Ruins. Since Tsuyama went on to join AMT, it's fair to say that Seikazoku provided the original pattern for the current AMT sound. Our first album "Out Takes 1966-1978" was released by the French label Fractal.
---
17. UNTITLED (vanishing version) / Father Moo & The Black Sheep
Father Moo & The Black Sheep have released two slightly different LPs on Swordfish Records and Eclipse Records, and there is a CD reissue due from Swordfish. Father Moo only recorded this one album, before departing for the World of Love.
---
18. CAMBOUS / Ueh
Audrey Ginestet : bass
Stéphane Mounica : guitar
Frédérick Jean : drums
Rémi Loridant : vibraphone
recorded at The Chapelle Aug.01
engineered by Olivier Cussac
Ueh is an avant-rock group, active around Toulouse, that includes Frederic and Audrey Ginestet. Their first double album will be released on the AMT label in the summer of 2002. We always play together anytime I visit Toulouse, and someday I'd like to release all of these sessions. I feel such sympathy with their singleminded love of music. This is truly pure-hearted music!
---
disc-3
1. CONCURRENCE / Kawabata Makoto & Miyamoto Naoaki
Kawabata Makoto : sarangi
Miyamoto Naoaki : electric guitar
mixed by Miyamoto Naoaki
Miyamoto Naoaki is a drone-feedback guitarist who is currently garnering massive attention in Japan. He also plays in Tabata's Leningrad Blues Machine, and in Mukai Chie's Dadunr. Our duo began in 2000 at Miyamoto's instigation, and we've released one guitar duo album on the AMT label. On this track I play sarangi.
---
2. WHITE FLOWERS ON THE HILLTOP / Shogo-nari with Kawabata Makoto
Ishida Yasuyuki : vocal, acoustic guitar
Miki Kaori : piano
Kawabata Makoto : electric guitar
music & words by Ishida Yasuyuki
live recorded at TOKUZO (Nagoya) 25.Mar.00 by Telle Kumazawa
Shogo-nari are a folk duo from Nagoya. Their music stubbornly resists all the depredations of fashion, and they have released two albums (on which I play guest guitar on all tracks) on their own Zakuro Records label.
---
3. PLANET OF SOMNOLENCE / Space Machine with Kawabata Makoto
Yamazaki Maso : EMS VCS3 & Echoplex EP3
Kawabata Makoto : electric guitar
recorded at Space Machine Systems Studio (Osaka) and Acid Mothers Temple
mixed by Kawabata Makoto
Space Machine is another solo unit from Yamazaki Maso (AKA Masonna). He uses various analogue synths and echo machines, including the EMS VCS3, to pursue the ideals of cosmic electronic music. The group has released one album on Alchemy Records. I have played together with him at various events he has organised such as the Cosmic Electronic Festival and the Space Machine Cosmic Party. Those collaborations were the starting point on our journey together in cosmic sound.
---
4. UCHU (comet comforter mix) / Uchu
Higashi Hiroshi : guitar, voice
Ayano : voice
Kawabata Makoto : guitar, voice
Uchu, the predecessor to the Higashi-Kawabata guitar duo Surfin' UFO, was a self-proclaimed "human-powered ambient techno unit" – i.e., we used only guitars, no sequencers or samplers. We released two albums, but with the abscondment of Ayano we called a halt to the group.
---
5. DOHKOKU / Tsurubami
Kawabata Makoto : guitar
Higashi Hiroshi : bass
Emi Nobuko : drums
all improvised by Tsurubami
recorded at Acid Mothers Temple 11.Feb.02
Tsurubami was formed in 1994. The three of us ? me, Higashi and a female drummer called Nobuko Emi are like three bloodbrothers whose destinies have been bound together from a previous existence. This bond between us later developed into the ¡ÈSoul Collective¡É ideal of AMT.
The three of us have been given a huge mission in life and as a result we¡Çre like waves that come and go, tides that ebb and flow. As long as we three have life on this planet the group will continue to exist. Here¡Çs a summary of our mission:
According to the theory of Inyo Gogyo, everything that exists in the world can be expressed by Yin and Yang, the two principles. (even computers work in this way). Everything is created from Yin and Yang, and the interactions of the Five Elements – wood, fire, earth, metal, water. The workings of the universe can be understood through a knowledge of the Two Principles and Five Elements. The form of everything on Earth and in the heavens is created by Yin and Yang, while the workings of the world occur through the Five Elements. If we take it that sound is one particle of time, then the energy of sound flows from the deepest past into the far future. And that also suggests that the purpose of ritual and prayer is to recreate the energy that existed at the beginning of the cosmos. Rituals and prayer function to reawaken that which existed at the beginning, to open the doors of this world, and to make that energy flow once more. Through the holy sound of Ohm, can we glimpse the eternal, escape the constraints of time (past, present, and future), and come to meet the Buddha?
For us, Tsurubami is a place of eternal spiritual training, a place where everything must be laid bare. This band itself is the last and greatest stronghold of group existence. I see it as a place where we can experiment with a form of improvised playing based on paranormal communication which has existed since the time of the troubadours.
---
6. THIRD EYE OF THE WHOLE WORLD (long version) / Acid Mothers Temple & The Melting Paraiso U.F.O.
Koizumi Hajime : drums
Kawabata Makoto : guitars
music by Kawabata Makoto
A short version of this track appears on the second AMT album "Pataphisical Freak Out MU!!", which was released by PSF in March 1999. This long version previously appeared on volume one of my Private Tapes series, released in January 1999.
---
7. I WANT YOU TO KISS ME AGAIN / Kawabata Makoto
Kawabata Makoto : electric guitar
Since my instant of oneness with the cosmos in May 1999, my music has become ever more personal. I truly believe that "my" music is nothing more than the cosmos using my body as a conduit to reproduce its own sounds. But what can these sounds be? I want to play this music for the person I love most in the world.
---
Kawabata Makoto (23th February, 2002)
translated by Alan Cummings
earworm.worm79.made in england.cargo distribution.
www.earwormrecords.com
domearworm@hotmail.com