Announcing Acid Mothers Afrirample – the had-to-happen, inevitable fusion of the overseas superstars, the world's heaviest ever freakout psychedelic rock band Acid Mothers Temple & The Melting Paraiso U.F.O., and Sonic Youth approved, naked Naniwa nubiles, the world's craziest mutant girl duo Afrirampo.
This promises to be a psychedelic spectacle beyond imagining, a debauched pandemonium of Sodom and Gomorrah excess. Find out what lies at the furthest reaches of madness – hell? Heaven? The end of the universe? Or maybe Osaka? Make sure you don't miss the historic results of this genetic experiment in hybrid crossbreeding!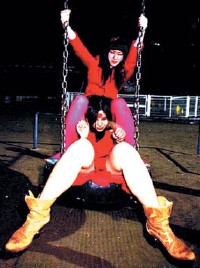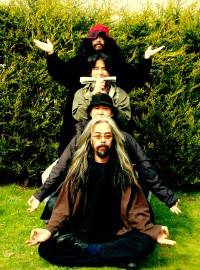 ---
Sat. 11th Dec. 2004@Tokuzo, NAGOYA
17:30 open / 18:30 start
advance ¥2300 / current ¥2500
---
Acid Mothers Temple & The Melting Paraiso U.F.O.:
Tsuyama Atsushi: bass, vocal
Higashi Hiroshi: synthesizer, guitar, vocal
Koizumi Hajime: drums
Kawabata Makoto: guitar, vocal
AFRIRAMPO:
ONI: guitar, vocal
PIKACHU: drums, vocal
---
All pre-booked tickets will receive a special CDR of unreleased material!
The return of Tsuyama Atsushi's hilarious auctioneer!
The Shopzone end of year clearout sale with tons of rare records and posters! All the latest releases! The AMT fleamarket!
We are also planning on holding the annual AMT end of year drinking party at Tokuzo after the gig.
---
ACCESS
From Nagoya Station, take either the Higashiyama underground line towards Fujigaoka, or the Sakuradori line towards Nonami. In both cases, alight at Imaike which is about ten minutes from Nagoya Station. The venue is two minutes walk from exit ten at Imaike.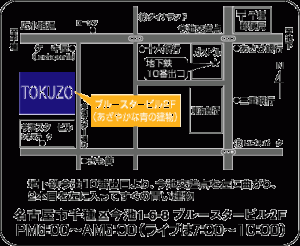 ---
FOR THOSE PLANNING TO TRAVEL FROM FURTHER AFIELD
The gig will end by 22:00, because of noise limitation ordinances. Since the last Nozomi bullet train for Tokyo departs Nagoya Station at 22:10, those who wish to travel home that night should instead catch the night bus for Shinjuku which leaves at 23:00 from Nagoya Station.
For those travelling from Osaka, the last Hikari bullet train leaves Nagoya at 22:42 and the last Nozomi at 22:57. You will have adequate time to catch either one of these.
There are numerous cheap hotels both around Tokuzo and around the Nagoya Station area. However, since the gig wil be on a weekend it would be advisable to make a booking in advance.
Tokuzo will be open as a bar until 05:00 so it will also be possible to spend the night drinking there and then catch the first train home in the morning. There are many other drinking establishments near Tokuzo that stay open all night.
---