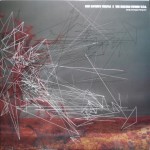 Glorify Astrological Martyrdom
/ Acid Mothers Temple & The Melting Paraiso U.F.O.
(Important[USA]/LP/May. 2009)
side-A
1. Phantom Utopia Or Suicidal Star Warrriors [tsuyama / kawabata]
2. Cosmic Soul Death Disco [tsuyama / kawabata]
side-B.
1. Stargate Of The Hell [tsuyama, kawabata, shimura]
Acid Mothers Temple & The Melting Paraiso U.F.O. – at the time of this recording were :
Tsuyama Atsushi : monster bass, voice, bamboo flute, alto recorder, cosmic joker
Higashi Hiroshi : synthesizer, dancin'king
Shimura Koji : drums, latino cool
Kawabata Makoto : electric guitar, tambura, speed guru
recorded at Acid Mothers Temple, Sep. 2008
produced & engineered by Kawabata Makoto
digital mastered by Yoshida Tatsuya
art work by Seldon Hunt
This LP version is edited from the original CD version.