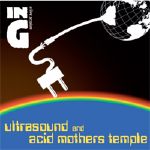 In G : a live session by ultrasound & Acid Mothers Temple
/ ultrasound & Acid Mothers Temple
(Synesthetic [Norway]/ 3″ CD/ 2004)
In G live session, part 1
In G live session, part 2
Acid Mothers Temple:
Cotton Casino: synthesizer
Tsuyama Atsushi: guitar
Higashi Hiroshi: dome-theremin
Uki Eiji: drums
Kawabata Makoto: guitar
ultrasound
rfovetz: electric bass
Kirk Laktas: electric guitar and piano
James Alexander: viola
Recorded at KVRX 91.7 FM during the SXSW music festival by clip master Andrew Schmidt on March 14, 2002. Mixed by rfovetz.
Artwork by Bj©írn Kjetil Johansen.
In tribute to Terry Riley.
---
Many thanks to Petter Flaten Eilertsen for his unwavering support and Hector Montes for bringing us together for this fleeting moment of joy.