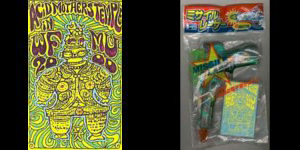 AMT-005 (sold out/limited 40 copies)
In WFMU 2000 / Acid Mothers Temple & The Melting Paraiso U.F.O. (Nov.2000)
Acid Mothers Temple 2000:
Cotton Casino : vocal, synthesizer
Tsuyama Atsushi : bass, vocal
Higashi Hiroshi : guitar, synthesizer
Ozawa Ryo : drums
Kawabata Makoto : guitar
recorded at WFMU, 10th Nov.00
special thanks to Brian Turner(WFMU)
---
This was a cassette tape sold that we sold on the 2000 Last Tour in 20th Century tour. It was recorded live in the studio at WFMU New Jersey. The full document of that recording session was broadcast on November 14th.
There were two versions of this release: one was just a cassette, the other included a toy raygun.
I no longer have any of these at hand, so I can't tell you any more about it.