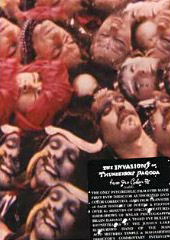 Ira Cohen – The Invasion Of Thunderbolt Pagodar
/ Acid Mothers Temple SWR (w/ The Joyous Lake, Sunburned Hand Of The Man)
(Bastet [USA]/ DVD/ 2006)
a) The Invasion Of Thunderbolt Pagoda / The Joyous Lake
b) The Invasion Of Thunderbolt Pagoda / Acid Mothers Temple SWR
c) The Invasion Of Thunderbolt Pagoda / Sunburned Hand Of The Man
d) The Invasion Of Thunderbolt Pagoda / Ira Cohen (Director's Commentary)

Special Features

Slide Show: From The Mylar Chamber / Angus MacLise
Brain Damage / Mahasiddhi
Played For Real: Ira Cohe
Paradise Now Preview
Acid Mothers Temple SWR : (on track-1b)
Yoshida Tatsuya : drums, sampler, voice
Tsuyama Atsushi : bass, voice
Kawabata Makoto : guitar
live recorded at "Kill Your Timid Notion" festival, Dundee, Scotland, 2003

First release of film from 1968, with four possible soundtracks: original soundtrack by The Joyous Lake; new soundtrack by Acid Mothers Temple SWR recorded live at "Kill Your Timid Notion" festival, Dundee, Scotland, 2003; new soundtrack by Sunburned Hand Of The Man recorded in 2006; and new commentary by Ira Cohen.
Includes 16-page full-color booklet with stills, poetry by Ira Cohen and Angus MacLise, essays by Allan Graubard and Ian MacFadyen and credits.
Limited edition of 1000 copies.