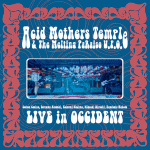 Live in Occident
/ Acid Mothers Temple & The Melting Paraiso U.F.O.
(Essence [Brazil]/CD/Aug. 2011)
1. Acid Milk Milky Way Also Jupiter 888
2. Rising From The Cool Fool Inferno
3. Rising From The Cool Fool Inferno
4. Pink Lady Lemonade (I Wanna Drink You)
5. Blue Velvet Blues
6. Speed Guru
7. Lucille
Acid Mothers Temple & The Melting Paraiso U.F.O. – at the time of this recording were :
Cotton "Super" Casino : vocals, synthesizer
Tsuyama Atsushi : bass, vocals, bass harmonica
Higashi Hiroshi : synthesizer,  guitar, vocals
Koizumi Hajime : drums
Kawabata Makoto : guitar, theremin, vocals
Recorded at Bottom of the Hell, San Francisco 21.Apr.99
KFJC "The Pit" San Francisco 22.Apr.99
"The Deep Heaven Festival," The Space Station, Boston 24.Apr.99
The Cooler, New York City 26.Apr.99
World Famous Star and Carter, Manchester 4.May.99
Ragtime, Toulouse, 20.May.99
"La Fete De "lHmanite," Espacee C.U.F, Toulouse 21.May.99
produced by Kawabata Makoto
photos by Audrey Ginestet and Carl Marc S.
art work by Kawabata Sachiko
Special thanks to
Mason Jones, Frank van den Elzen, Bernie Bruno Stein, John Fahey, Jon Allen, David Nuss, Rita Ackermann, Mokuno Akio, WFMU, Alan Cummings, Trevor Manwarning, Glyn Collins, David Keenan, The Pastels, Nick Georgiou, Robin Hemingway, Coost & the crew of Stubnitz, OWUN, Mey Marylene, Leonetti Xavier, Bruno Idez, Franck Stofer, Jerome Genin, Adrey Ginested, Jade Moon, La Fete De L'Humanite, Johan Wellens, Mark Fischer, Daniel Van Beers, Goto Rie, KFJC, Suhara Keizo, Hidaka Chikako, PSFrecords, Father Moo, Yoko, Ayano, Acid Mothers Temple's family, all our support bands, and Freak out audience!!
Limited to 500 copies.