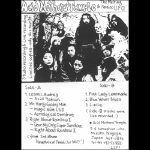 AMT-004 (sold out/limited 44 copies)
Live + Studio / Acid Mothers Temple & The Melting Paraiso U.F.O. (May.1999)
side-A:
Cosmic Audrey
– Acid Takion
Mr. Hardy Guidey Man
– Magic Aum LSD
Right About Rainbow.1
– You're My Only Super Sunshine
– Right About Rainbow.2
side-B:
Pink Lady Lemonade
Blue Velvet Blues
Lucie
Acid Mothers Temple 1999:
Cotton Casino : vocal, synthesizer
Tsuyama Atsushi : bass, vocal
Higashi Hiroshi : guitar, synthesizer
Koizumi Hajime : drums
Kawabata Makoto : guitar
tracks from "Pataphisical Freak Out MU!"cd on PSF (on side-A)
live recorded at color(NY), 26th Apr.99 and somthing else…(on side-B)
---
This cassette tape was sold on the 1999 Pataphisical Freak Out MU tour. Side A includes tracks from our second album "Pataphisical Freak Out MU!". Side B is made up of live takes recorded on April 2 6th at The Cooler in NY. I no longer have any of these at hand, so I can't tell you any more about it.