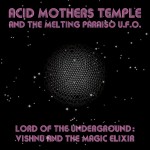 Lord of the Underground : Vishnu and the Magic Elixir
/ Acid Mothers Temple & The Melting Paraiso U.F.O.
(Alien8 Recordings [Canada]/ LP/ 2009)
side-A
Eleking the Clay [tsuyama / kawabata]
Sorcerer's Stone of the Magi [tsuyama / tsuyama]
side-B
Vishnu and the Magic Elixir [tsuyama / kawabata, tsuyama, shimura]
Acid Mothers Temple & The Melting Paraiso U.F.O. – at the time of this recording were :
Tsuyama Atsushi : monster bass, voice, acoustic guitar, alto recorder, flute, toy trumpet, kazoo, cosmic joker

Higashi Hiroshi : synthesizer, dancin'king
Shimura Koji : drums, latino cool
Kawabata Makoto : electric guitar, bouzouki, saz, sitar, organ, percussion, speed guru
recorded at Acid Mothers Temple, Aug. – Oct. 2008
produced & engineered by Kawabata Makoto
digital mastered by Yoshida Tatsuya
art work by Guylaine Bédard
photo by Dale Tomlinson
This LP version is a little shorter than CD version.
Edition Of 1000 pink vinyls.