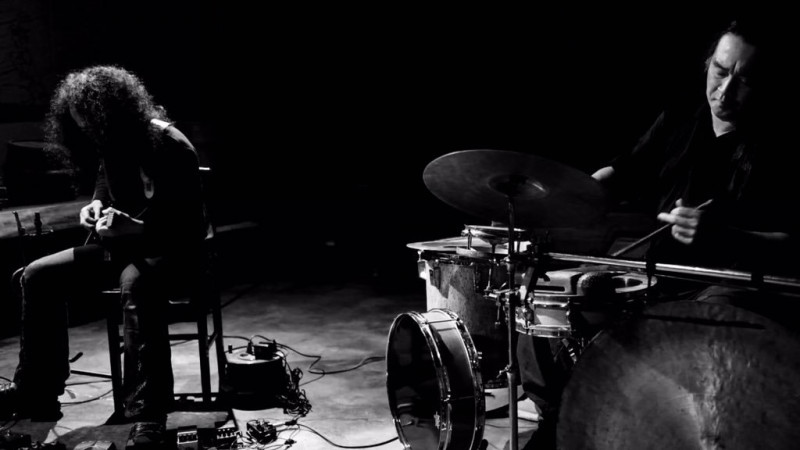 ナカタニ・タツヤ (perc) + 河端一 (g)
■ 1月12日(木)@東高円寺 U.F.O. Club (03-5306-0240)
http://www.ufoclub.jp
宍戸幸司 (vo, g from 割礼) + ナカタニ・タツヤ (perc) + 河端一 (g)
※ この日のみ宍戸幸司とのトリオ。
■ 1月13日(金)@大久保 ひかりのうま
http://hikarinouma.blogspot.fr
■ 1月14日(土)@神戸 Helluva Lounge (078-331-7732)
http://helluva.jp
Nakatani Gong Orchestraを率いてのドローン演奏等、従来のドラマーとは全く異なるアプローチを見せる異能ドラマーと、恍惚系ギタードローン開祖の邂逅。一聴してもドラムとギターとは到底信じられない、楽器演奏法に関しても既成概念を超越した不可思議音響を、完全即興演奏で展開。
2015年と2016年の2度に渡る日本ツアーは大好評を博し、2016年11月にはアメリカツアーも敢行。そして今回3度目の国内ツアーは、何と初日のみ宍戸幸司(割礼)とのトリオ!!
2016年1月大分公演のライヴ音源を、吉田達也が編集&プロデュースしたライヴ盤「Live in Oita 2016」も各会場にて販売!
ナカタニ・タツヤ(Tatsuya Nakatani)
パーカッショニスト。昭和45年兵庫県神戸市生まれ、15歳の頃からドラムセットを叩き始める。20代前半に渡米、西海岸を拠点とし音楽活動を始める。その後ボストン、ニューヨークと拠点を移し、現在ニューヨーク市にほど近いペンシルバニア州イーストン市在住。
ドラム・パーカッション(ベースドラム、フロアタム、スネアドラムなど)やゴングを基本とし、弓や特殊スティックなどで造形された生音(アコースティック)での演奏は独自な音として評価されている。
1990年代からアメリカ、中南米、ヨーロッパ各国にて演奏活動を続ける。近年は特にアメリカ大陸を頻繁に縦断、横断するツアーを重点に演奏活動する。年間百本を超えるソロ•コンサートを中心に各地で様々なミュージシャン、ダンサー、アーティストとの共演を行う。
北米中心に行っている大型企画に「ナカタニ・ゴング・オーケストラ」があり、各国各地でのワークショップで育てた11人の現地弓弾きゴング・プレーヤーと共に、クリーブランド・モカ美術館やワシントンDCケネディーセンターなどを始め、全米各地、メキシコ主要都市の現代美術館、アートセンターで演奏を経験する。
ライブ演奏活動の他に、各地の音楽大学でのマスタークラス、ワークショップ、レクチャーを行い、また自作弓の製作、録音やレコード出版販売も行う。
ウェブサイト:http://hhproduction.org
フェイスブック:https://www.facebook.com/tatsuya.nakatani
---
"Nakatani tatsuya + Kawabata Makoto Japan Tour 2017」
Nakatani Tatsuya (perc) + Kawabata Makoto (g)
– 12th Jan. (thu) @ U.F.O. Club – HIgashiKoenji Tokyo (03-5306-0240)
http://www.ufoclub.jp
Shishido Koji (vo, g from Katsurei) + Nakatani Tatsuya (perc) + Kawabata Makoto (g)
*Only this night, we will play as trio with Shishido Koji (from Katsurei).
– 13th Jan. (fri) @ HIkari No Uma – Okubo Tokyo
http://hikarinouma.blogspot.fr
– 14th Jan. (sat) @ Helluva Lounge – Kobe (078-331-7732)
http://helluva.jp
"MAKOTO KAWABATA & TATSUYA NAKATANI"
On the surface, guitarist Makoto Kawabata and percussionist Tatsuya Nakatani would appear to be unlikely collaborators. Save for their shared country of origin and prolific musical outputs, the wooly-haired psychedelic shaman of Acid Mothers Temple and the fiercely-focused conjurer of ritualistic solo percussion and conductor of the Gong Orchestra seem to occupy very separate ends of the musical spectrum – one in the Dionysian throes of electric excess, the other in the Apollinian exploration of acoustic purity. But the process and action of Improvisation provides a space where these two unique musicians can meet on equal footing and create a shared path in which their common love of immersion in the sheer richness and grain of SOUND can flower to its full and dynamic potential.
​While much of Nakatani's work has emphasized his exploration of unamplified acoustic sound – from his solo concerts to the Nakatani Gong Orchestra to collaborations with master acoustic improvisors like Barre Phillips, Michel Doneda, and Peter Kowald – he has a parallel track record of powerful playing with electric guitarists such as Donald Miller (Borbetomagus), Mary Halvorson, and Kenta Nagai. In fact, one could make the case that Nakatani's use of sustained sounds and howling overtones via bowed gongs, cymbals and scraping objects makes for a more compelling foil for the sonic palette of electric guitarists than does conventional drum kit playing. The wailing fury of Tatsuya's bowed work can match wits with the most piercing guitar feedback like the sound-world of Stockhausen's "Mikrophonie 1" fully unleashed from the composer's control.
​Kawabata likewise can surprise the listener with the range of expression at his fingertips, all while retaining the qualities that make him so distinctly individual. In Acid Mothers Temple he's established the mantle on which his reputation is built by conjuring an ecstatic blast of high volume fuzz-wah mania that touches on Hendrix, Blue Cheer, Hawkwind, the Stooges and a host of other fellow astral-travelers in a blend that is now inimitably Kawabata – amps on 10 and controls set for the heart of the sun. But on his numerous solo recordings and collaborative outings outside of AMT he has shown other wider facets of his musical psyche, often foregrounding ritualistic elements with a remarkably sustained focus. And he's no stranger to intense face-offs with other drummers of serious rep, as his marvelous concert and recorded outings with Guru-Guru's Mani Neumeier and AfriRampo's Pikachu most certainly attest.
​Perhaps the trait that unites them most is their unwavering commitment to robust touring. Whether its AMT's relentless world tour schedules or Tatsuya's perpetual travels on U.S. highways in his trademark Sprinter van housing a kitchen and enough instruments for a full Gong Orchestra, these two gentlemen are road dogs of the first order – braving the physical rigors of constant travel to bring the music directly to the people. Fittingly, they first met on the road in 2001when Tatsuya was subbing for the drummer in Psychic Paramount on a run of shows opening for Acid Mothers Temple in France. They continued to run into each other in Japan and elsewhere in their various travels, eventually performing as a duo in 2014 for a few shows and then extended to a full Japanese tour in 2015. But for U.S. audiences this 2016 tour is the first chance to see & hear them together.
So now we have Kawabata-Nakatani, upending any preconceptions and getting their hands dirty in the fertile trenches of real music-making. Beyond genre, beyond style, an explosive fulfillment of the kinetic potential simmering in these two fearless explorers of sound's outer reaches and tireless veterans of the road.
​– Rob Cambre, (New Orleans, 2016)