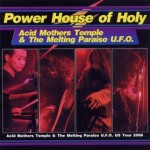 AMTCD-019(2)
Power House of Holy – Acid Mothers Temple & The Melting Paraiso U.F.O. US Tour 2006 – (Apr.2006)
Dark Stars In The Dazzling Sky (aka. Dark Star Blues)
Pink Lady Lemonade
Acid Mothers Temple & The Melting Paraiso U.F.O. – at the time of this live recording were :
Tsuyama Atsushi : monster bass, vocal, cosmic joker
Higashi Hiroshi : synthesizer, guitar, chorus, dancin'king
Koizumi Hajime : drums, sleeping monk
Kawabata Makoto : guitar. chorus, speed guru
live recorded at Spaceland Los Angeles on 6th June.04 (track-1) and Guildhall Gloucester on 30th Oct.04 (track-2)
produced by Kawabata Makoto
artwork by Tobi Kaori
live photos by Telle Kumazawa, Takayama Manabu and Minemoto Takeshi
tour poster by David Jasso
http://www.acidmothers.com
---
We made mistakes overlapping this CD number AMTCD-019, then this CD number was changed to AMTCD-019(2).