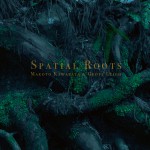 Spatial Roots
/ Makoto Kawabata & Geoff Leigh
(May. 2016)
AMTCD-029
1. Spatial Roots
Makoto Kawabata: guitar, voice, electronics.
Geoff Leigh: soprano sax, flute, jaw's harp, voice, electronics.
recorded live at Urbanguild, Kyoto, Japan, 11th Nov. 2014.
mastered by Harvey Summers: http://www.broadoakstudios.co.uk/
art work by Masaki Yoda
special Thanks to:
Yuka Nomoto: concert organisation.
Kazue Asano: concert promotion, cover photography, live photos
limited to 300 copies with pin-up sleeve.