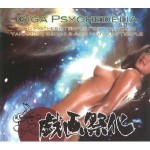 AMTCD-026
Giga Psychedelia – Acid Mothers Temple Festival vol.10 / Yamamoto Seiichi & Acid Mothers Temple(Dec.2012)
1. Shine On You Crazy Dynamite
2. Back Door Man Of Ghost Rails Inn ~ La Nòvia
3. Pink Lady Lemonade – including Grandson Of A Bitches Brew
Yamamoto Seiichi & Acid Mothers Temple are :
Yamamoto Seiichi : guitar
Tsuyama Atsushi : bass, voice, soprano sax, soprano recorder
Koji Shimira : drums
Kawabata Makoto : guitar, voice
Higashi Hiroshi : synthesizer, voice
Tabata Mitsuru : guitar, guitar-synthesizer, voice
with
Liquidbiupil (dbqp + mi) : light show
live recorded at Tokuzo (Nagoya) "AMT Festival vol.10" on 10th Dec. 2011
engineered by Usui Yasuhiro (Tokuzo)
produced & mixed by Kawabata Makoto
digital mastered by Yoshida Tatsuya
art work by Tobi Kaori
live photos by Cadzuqui Sumida, Seiji Animaminimal and Kayazawa Ariatsu
special thanks to Tobi Kaori, Ishida Yoko, Suzuki Junzo, Alan Cummings, Tokuzo and You!!!
The third showdown between Yamamoto Seiichi and Acid Mothers Temple! Marvel at the psychedelic, metaphysical demolishing of the AMT repertory! This is it, your one-way ticket to the Galactic Railroad! No return possible!!