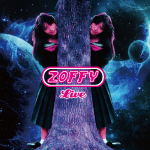 OM-01
Zoffy Live! / Zoffy
01. Zoffy
02. Purple Haze
03. Angel's Hidden Harakiri
04. Minestra Zuppa
05. Only Vertical Gash
06. Stairway to …
07. Bananes Mécaniques
08. Tout Tout Pour Ma Chérie
09. Soft Love Machine
10. Alan Prost
11. Hades Hardy Girl
12. Hamburger Rock
13. Stairway to Heaven
14. Hyderomastgroningem
15. …Heaven
[Bonus Tracks]
16. Smoke On The Water
17. Angel's Hiden Harakiri
18. 21st Century Schizoid Man
Zoffy :
Tsuyama Atsushi : vocal, bouzouki, guitar, alpine trumpet, bass harmonica, drums
Kawabata Makoto : oud, vidin, yörük, algoza, guitar, organ, bowed peacock harp, synthesizer, chorus, theremin, bass
Recorded live at Ragtime (Toulouse) on 20th May, 1999, unknown (Grenoble) on 16th May, 1999,
Tokuzo (Nagoya) on 11th Jun & 26th Aug, 1999, 8th Jul, 2002, Bears (Osaka) on 28th Apr, 2000, Kuku (Nagoya) on 29th Apr, 1998, Hard Rain (Osaka) on 12th May, 2003.
Special thanks to Ruins (Yoshida Tatsuya & Sasaki Hisashi), Audrey Ginestet, Jade Moon, Franck Stofer, Jerome Genin, Mey Marylene, Leonetti Xavier, Owun, Koizumi Hajime, Kato Sae.
Original CDR (AMCD-017 : limited 100) was released from Acid Mothers Temple label on Jun. 2000.
it was reissued on CD from Tsuyama's Disk Omeko in 2005.Tracks 16 to 18 did not appear on the original release.